Submitted by Colorado Container on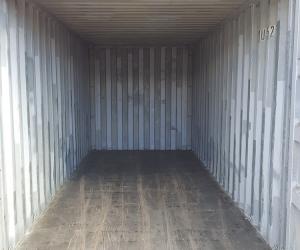 June and July are hot months in Colorado, and we sell quite a few containers for people to use as on-site storage on farms, ranches, residences, or commercial properties. But why are so shipping containers so popular with individuals and companies? Cost, transportability, and durability/security are three of the main reasons cited.
1. Cost: Shipping containers are relatively expensive when compared to other storage types. Once the container is purchased there are no monthly service charges, rental fees, or any other recurring payments. The container is 100% yours.
2. Transportability: Shipping containers can be moved to your location and dropped off where ever you need them. You don't need to drive to a storage facility in some remoted area to unload or pick up your storage goods. As long as you have a little ground to keep the container on/near your property, you'll have the piece of mind knowing your stuff is safe.
3. Durability/Security: Shipping containers are designed for a life on the sea, highway, trains, or short periods in ports and container yards. In their lifetime they're exposed to some of the harshest weather conditions for 10-12 years. With this in mind, a shipping container can take all the abuse that both the Colorado high plains and high country can throw at it.
If you need help purchasing a shipping container in Colorado or Wyoming we have a regular supply of 20' storage containers, 40' storage containers, and 40' high cube storage containers arriving at our container yard in Denver. Just fill out the request form or contact us and we'll be glad to help you find the best deal possible. Even if you're not buying a container through us but have some general questions, send them across and we'll do all that we can.