Submitted by Colorado Container on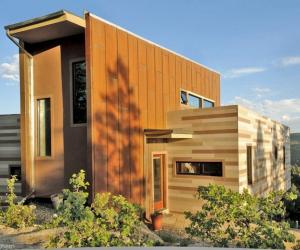 Colorado Container Homes – Prefab at its Finest!

Way out in Nederland, Colorado an architecture firm named Studio HT designed this amazing shipping container home.
As with any container home, the overriding mantra is efficiency and the proper use of the space available.  And the Nederland home registered at just over 1,500 square feet.  While this space may seem modest by the spacious standards of Colorado, not a bit of space is wasted or underutilized.
The house is built in a wedge shape, with the containers providing the outside arms of the wedge and the interior space being employed as a living area.
Container #1 provides two bedrooms and a shared bathroom, and container #1 provides the kitchen, laundry area, and an office.  The central area, as mentioned before, is a large dining room that looks out over the Rocky Mountains.  In the rear you'll find a set of stairs that lead to the second story master bedroom, complete with a private deck.
What's powering the home you ask?  There's a solar collection/photo voltaic system, combined with passive cooling which makes the property even more energy efficient.  On those cold Colorado nights the owners can fire up the wood pellet stove.
To top off the property, there are grass gardens on the roof to provide insulation and collect water and snowfall.
You can read more about the property on the Studio HT website.