Submitted by Colorado Container on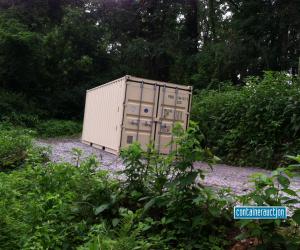 Old man winter is knocking on the door in Colorado, and from the high country to the front range now is the time to start preparing for winter storage on your farm, ranch, or property.  There's no better solution in terms of security, durability, and speed of set up/construction than a new or used shipping container.  After all, you'll want to make sure your skis, canoes and fishing gear, snowmobiles and motorcycles are safe, secure, and out of the snow and rain!
By design, shipping containers are built to protect everything that's inside of them.  The exterior shell is made of COR-TEN steel and heavy duty rails and corner castings, the walls are solid and can only be penetrated by a torch or some other heavy duty cutting devices, and the doors are heavy and strong.  If you purchase a new container it will come equipped with a lock box, or if you purchase a used container you can have a container lock box mounted onto the unit.  Once the lock box is in place, the storage unit is tight, secure, and everything that you've got stored inside is protected from the elements and any would-be theives.
Combined with the secure design, shipping containers are designed to be incredibly durable.  A shipping container typically has a sea-worthy life of 10-15 years, and after this time it's still a solid unit for storage or other modification projects.  Don't be mislead - just because it's no longer qualified for international shipping doesn't mean it's destined for the scrap heap.  If any of the cross members are bent out of line, even by an inch, it can be disqualified.  What you and I would call light damage or dents and dings could eliminate it from the roster.  What the shipping lines are trying to avoid is having to clean up any kind of mess in the field if the shipping container would happen to break and it's cargo would turn into a Breckenridge style "yard sale".
New construction is over $100/square foot in most every part of Colorado, and the cost of a used, or even new, shipping container is well below that cost - you can save a lot of money buying a shipping container when you compare the cost of a stick built unit.  Delivery up and down the front range out of Denver shouldn't run you much more than $500 to south of Denver, or even $850 to south of Colorado Springs.  Even if you're moving the container up to Hayden or down to Durango or Pagosa Springs, the cost/benefit may come out putting shipping containers on top.
If you need help finding a shipping container for sale in Colorado, you can either contact us directly through this site or search on ContainerAuction.com to see what some of the available inventory looks like.  Keep in mind, that may not be the full inventory, as it changes daily.  Don't hesitate to reach out and contact us for more information. Using a shipping container for winter storage in Colorado is a great idea for security, durability, and cost savings.  We invite you to ask us any questions about containers, no matter if you're buying through us or not!