Submitted by Colorado Container on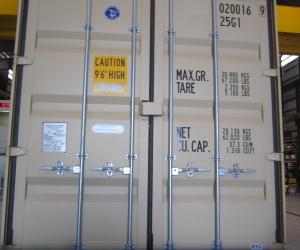 If you're looking for a great storage unit that will maximize an area with restricted access, a 20' high cube shipping container is the perfect fit for you.
A 20' high cube container sits on the same footprint as a standard container, but provides and extra foot of headroom for stacking and storage.  For comparison, a 20' high cube is 20' long, 8' wide, and 9'6" tall; while a standard 20' container is only 8'6" tall.
That extra foot of space translates into another row of shelves, taller equipment, and more overall room to load up your goodies.
Extra Storage, Lower Cost Per Square Foot

Based on a recent survey in Denver, a new 20' shipping container retails for around $3500 before delivery, and that price works out to $2.57/square foot.  ColoradoShippingContainers.com is selling our new 20' high cube containers for $3,800 giving you a price of only $2.50/square foot.
Now, compare that price to building a storage shed or other stick built structure and the cost gets really competitive!
ColoradoShippingContainers.com and ContainerAuction.com have been providing new and used shipping containers throughout Colorado (the Western Rockies, Foothills, and the Front Range from Cheyenne to Pueblo) for several years.  We have an expert delivery team to get your container on the ground exactly where you want it, and the experience to get you the best container at the best price.  If you have any questions don't hesitate to contact us and we'll be happy to help with all of  your shipping container and portable storage needs.