Submitted by Colorado Container on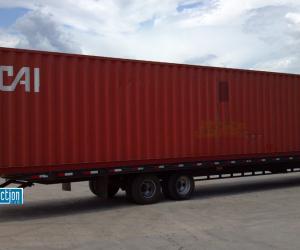 If you're looking for a quick storage solution that will get you through more than a few of these harsh Colorado winters, consider a used 40' shipping container.  We can have them delivered to your location within a couple of days; and you can have it loaded up to store your extra household items, mountain toys like motorcycles, skis, snowmobiles, and just about anything else – commercial or residential, that you can image.
Shipping Containers for Storage
Shipping containers come in both 20' and 40' lengths, and are a natural fit for on-site storage.  New or used, they are designed for heavy, intense transportation on the seas and highways around the world, and have a "sea going" life of 10-15 years.  Colorado is unique in that it's not a major port city or distribution center (like Chicago); and many of the containers arrive with cargo, so they're still in cargo worthy condition.  This means Colorado buyers get some of the best used shipping containers available on the market.
Shipping containers are made of rust and corrosion resistant COR-TEN steel, and have marine grade plywood flooring.  The largest units are 40' long, 8' wide, and 8'6" tall, while our smaller units are 20' long, 8' wide, and 8'6" tall.  They've got heavy duty locking doors, strong floors and stronger corner posts and corner castings.  All of our containers are wind and water tight.
Colorado Shipping Container Uses
Shipping containers in Colorado have a wide range of uses.  Some people use them for modular housing projects in the Mountains; we've worked with others that use 20' and 40' containers for commercial storage for their businesses in Denver or Boulder.  More than a few times we've delivered containers north to Cheyenne and South to Alamosa for farm and ranch storage units (tools, feed, anything that needs to be kept dry).
Where to Find Shipping Containers in Colorado
Most of the shipping containers that you find in Colorado originate in Denver and are transported to other parts of the state.  Shipping containers are available on our site, ColoradoShippingContainers.com, and we try to keep our inventory of shipping containers for sale in Colorado up to date on ContainerAuction.com.