Submitted by Colorado Container on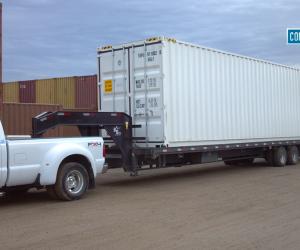 One of the most common issues with buying a shipping container is having it delivered, as a majority of the containers that you find on a site like Craiglist are in someones pasture and they don't have a forklift, or they're being sold by a far off broker who doesn't have any way to deliver the container to you.  Luckily, if you're reading this blog post and live in Colorado we've got a solution for you.
ColoradoShippingContainers.com works closely with ContainerAuction.com to get you the best priced, best condition shipping containers availalbe in Colorado.  But that's not where the service stops... we can also provide delivery services for all types of shipping containers: new, used, 20', 40', 40' high cubes, you name it we can move it.  No forklift is needed at the delivery location, all of our trucks are tilt bed / Landoll style, so we can set the container directly on the ground, right where you need it.
Our drivers are top of the line, with experience in the mountain roads around Boulder, to muddy fields in Parker.  We've moved containers out to Sterling and deep into the San Luis Valley.
If you need a shipping container at a competitive price, with or without delivery, or you just need your existing container moved or delivered, contact us and we'll be happy to provide you a quote for the service.  Actually, if you have any container related questions we'll be happy to help - no matter if you use our services or not.