Submitted by Colorado Container on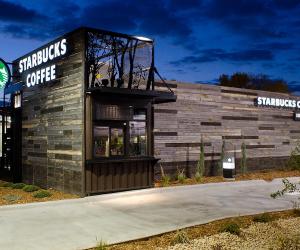 At Starbucks, the logo isn't the only thing that's green.  If you're driving through Northglenn, Colorado check out their latest store concept - a retail location constructed from used shipping containers.
The store is made from two used shipping containers (unfortunately, they didn't buy them from us!), and one 20' container is used specifically for garbage.  Relatively small in size, the coffee container is designed specifically for walk up and drive up traffic.
While the container concept is a diversion from the traditional shops that Starbucks is known for around the world, the stores are the very model of efficiency at just 480 square feet.  Without indoor or outdoor seating space, the company can save energy on air conditioning, and without customers disposing of trash on-site, they can save on garbage collection.
The Northglenn location is the second of its kind (the first coffee container is in Seattle), and Starbucks is planning more in the future.  Recognizing the need for more efficient use of space and materials, we think it's a great idea for Colorado.
Normal
0
false
false
false
EN-GB
ZH-CN
X-NONE
/* Style Definitions */
table.MsoNormalTable
{mso-style-name:"Table Normal";
mso-tstyle-rowband-size:0;
mso-tstyle-colband-size:0;
mso-style-noshow:yes;
mso-style-priority:99;
mso-style-parent:"";
mso-padding-alt:0in 5.4pt 0in 5.4pt;
mso-para-margin-top:0in;
mso-para-margin-right:0in;
mso-para-margin-bottom:10.0pt;
mso-para-margin-left:0in;
line-height:115%;
mso-pagination:widow-orphan;
font-size:11.0pt;
font-family:"Calibri","sans-serif";
mso-ascii-font-family:Calibri;
mso-ascii-theme-font:minor-latin;
mso-hansi-font-family:Calibri;
mso-hansi-theme-font:minor-latin;
mso-bidi-font-family:"Times New Roman";
mso-bidi-theme-font:minor-bidi;}