Submitted by Colorado Container on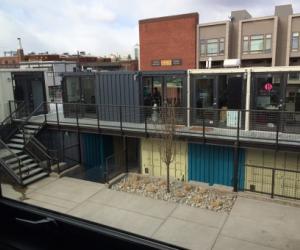 Check it out!  There's a new shipping container building in downtown Denver, right on 25th and Larimer.  Reported to be the first of it's kind in Colorado, the building combines retail, office, and restaurant space all into one, actually all into 29 - the number of containers that it's been built with.
The construction of the project started in May of 2013 and was completed last month, and is currently fully occupied. Full disclosure, it was 100% leased prior to completion; which is pretty impressive given the current occupancy rates in a lot of retail facilities on the market. Gravitas, the developer of the property, profiled their ideal tenants prior to construction and targeted their marketing to them. The shipping container building concept appealed to companies like Huckleberry Roasters, Cart-Driver, and Work & Class. Topo Designs liked the idea so much they've put their flagship store.
You can read more about this project on ContainerAuction.com, or stop by and visit it yourself.  If you need some containers to build something similar, give us a call and w'ell help you get the equipment sorted out!