Submitted by Colorado Container on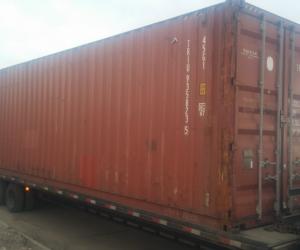 It's not even close to summer yet, and we've got some great deals on used 40' standard and high cube shipping containers out of our depot in Denver, Colorado! If you've ever considered buying an on-site storage container, now is a great time to get things in motion. Winter inventory is moving in, and with the port issues growing on the west coast we've got some high quality containers in stock!
40' Standard Compared to a 40' High Cube
There's no difference in the length or width of 40' shipping containers.They're both 40' long and 8' wide.  The difference comes in the height; all standard shipping containers are 8'6" tall, and high cubes are 9'6" tall, giving you an extra 12 inches of storage space for a reasonably small investment.
Container Inspections
A shipping container is a large object, and a good investment that lasts a long time.  A very normal question from all of our customers is, "can I inspect the containers before I buy one?"; and the answer is Yes. Given 24 hours' notice we can let the depot know that you'll be stopping by and have things prepared for you.If you fall in love with a container that's on the outside of the stack, many times you'll be able to pick that one.Unfortunately, if you try to pick a container that's buried in the stack you may not be able to get it due to the costs involved with digging it out.
Shipping Container Delivery
Container delivery is quick and easy, and is done on a tilt bed truck – so you won't need a forklift or crane on site.  We'll need the full address and contact phone numbers of the person at the site, and if you want the doors facing to the front or rear of the trailer.  With that information we'll coordinate a time that works for everyone and go from there. Here are a few more tips on shipping container delivery.
Before the container is delivered you'll need to decide where it's going, and if it will be on any type of foundation.  Colorado is a pretty arid climate, so in the Front Range you can get away with no foundation as long as the container is level. In the Foot Hills or Mountains you'll want to consider putting a container on some type of foundation, rail road ties work well. Follow the link to read more tips about shipping container foundations.
If you have any questions about shipping containers of any size, new or used, or shipping container delivery, feel free to contact us via email, or call/text 970-239-1368.