Submitted by Colorado Container on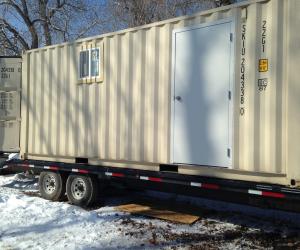 Portable container offices are popular all over Colorado, and we've modified them and delivered them up and down the Front Range and as far west as Gunnison. But what do you really know about shipping containers that have been converted into job site and ranch offices? We came up with five things that you might not know (until now)
They're Portable
Unlike a fixed structure that's built on a permanent foundation, shipping containers are designed to be moved around, and if you convert one into an office or storage unit it can retain the portable features of a shipping container. Sure, they can be mounted on a permanent foundation, but they can also be set on a simple stone foundation, rail road ties, or concrete pillars. How do you move them around? It's pretty simple actually:
They're Durable
At its very core, an office built from a 20' or 40' steel shipping container is still a solid, steel, building block that's designed to be carted around the world. The rails and frame are built from heavy duty steel and the sides are a thick gauge of steel designed for heavy industrial use. Converting into an office to keep on a farm, ranch, or jobsite would probably be light duty for a shipping container.
They're Secure
Take a CORTEN steel box, add an exterior steel door and some barred windows or a window with steel shutters and you've got a strong unit. Breaking in will require a cutting torch or more, and it will make a lot of noise breaking into one.
They're Custom
Sure, some companies make dozens of them, or have them produced in China and delivered to their lots throughout the country, but they cost just as much (if not more) as a locally produced, custom office container. We'll produce it exactly how you want it: specific placement of doors, windows, electrical outlets… everything you might need, we'll find a way to get it done.
They're Not as Expensive as You'd Might Think
In Colorado, shipping containers range in price starting from around $2200 and up. Adding a couple of windows and a door, plus any other features that you might need could easily keep your entire project under $5000.
If you need a portable office in Colorado or Wyoming, but don't know where to start or don't want to spend a fortune on the current options, drop us an email or text and we'll see what we can do for you.
Likewise, if you need a shipping or storage container for anything from shipping to on-site storage, we've got those to. Contact us at 970-239-1368, or email us through this page.